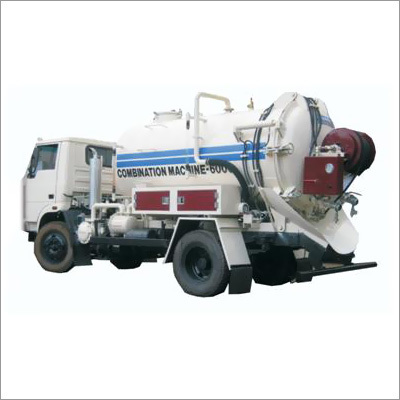 Jetting Machine
The INNOVATIVE 8 LCH is a combination machine, which combines sludge aspiration and jetting of civil and industrial sewers.
It consists of a combined twin compartment tank of a total volumetric capacity of 8000 liter's, divided into two compartments of 4500 liter's for fresh water and 3500 litters for sewer water.
Vacuuming of dense waste/sludge's from septic tanks, sewer lines, storm water rains, gullies etc., is carried out.
Blowing of pressurized air / water into the chamber dislodges the sediment solids, which combine with the liquefied effluent to form sludge.
This is then collected into the tank by operating the system in the vacuum mode.
The sludge tank may be emptied by gravity or by pressurized discharge.
Emptying of sludge tank is effected via hydraulic tipping.
APPLICATIONS:
Collection of metallic chips
Collection of powders
Collection of cotton fluff in textile mills
Centralized Vacuum cleaning systems
Recovery of welding flux
Collection of liquids (Water/Oil/Coolant etc.)
Collection of hazardous dust
Coolant / Oil recycling